RECB radio receiver unit
---
Description
Receiver unit associated with the entire range of JMei transmitters.
Fully configurable, this HF radio receiver allows the control of any industrial machinery.
Motherboard with high-tech relay, proven and highly resistant, this unit is suitable for all industrial applications.
Meeting the latest industry standards, the receiver unit can be installed in the the most restrictive technical areas at all levels.
Advantages
Pre-wired or not.
Transparent cover for easy diagnostics.
22 digital outputs.
Safety relays with guided contacts for emergency stop.
Optional diagnostics and feedback LED.
Optional LCD graphics screen.
Exclusive automatic frequency change system.
---
Options
Transmission in bi-directional mode.
Support magnet.
Analogue (0-10V 4-20mA +/- 10V +/-20mA).
PWM.
Digital input card.
Analogue input card.
Profibus, Ethernet, Canbus, Profinet or other fieldbus connection.
Metal housing.
Harting plug wiring, or other.
---
Applications
Travelling crane.
Tower crane.
Hydraulic lorry.
Special machinery.
PLC, etc.
---
Production examples
Radio remote control receiver unit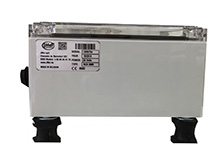 Radio remote control receiver unit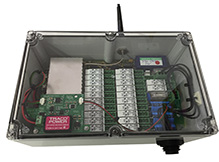 Radio remote control receiver unit